The headboard completes the decoration of your bedroom and also brings more comfort. A reason so all found to adopt! Through our complete file, discover models of headboards for all styles, all their additional features and even learn how to make your own headboard.
The bedroom is the perfect cocooning room, where everything has to be perfect, where every object, every piece of furniture has to fit perfectly into a whole. We want a comforting and warm space, cozy and comfortable. For this, we took care to choose a decoration, colors and quality bedding, but there is one element that should not be neglected: the headboard. Decorative asset, but also allied to your comfort, a headboard brings you better sleep, because it separates your head from the wall, which can sometimes be cold or wet. Thus, your sleep is more restorative and you have no risk of losing your pillow if your nights are a little hectic.
A headboard as aesthetic as practical
The headboard is also an important decorative element, chosen in harmony with the rest of the room. A headboard can consist of a simple wooden board, or covered with a fabric or padded effect, for a more comfortable appearance. There are also clever headboards that combine aesthetics and ingenuity with integrated storage solutions. The headboard is, therefore, two or three-in-one, incorporating bedside tables or storage niches, and sometimes even closets. You can also compose and invent your own headboard, with large cushions, an old vintage door or a combination of storage boxes.
A headboard adapted to our desires
If you can afford to choose a favorite model, however, make sure to opt for a headboard in line with the rest of the room. We stay in the same colors, the same materials and the same style. Beware of too large models that crush a small room and could encroach on the bed. Conversely, tiny headboards are also the least comfortable and least visible. We, therefore, adopt the headboard that suits us, listening to his desires and needs. If the set bed/headboard proposed by the seller does not attract us, we do not force, we can bet on a headboard mismatched, which will bring charm to the room while increasing the comfort of the bed. It is also the piece of furniture on which one can be original by a daring touch of color, a staggered material … To inspire you and guide you in the choice of your ideal headboard; we have grouped all the most beautiful models of a headboard in our file!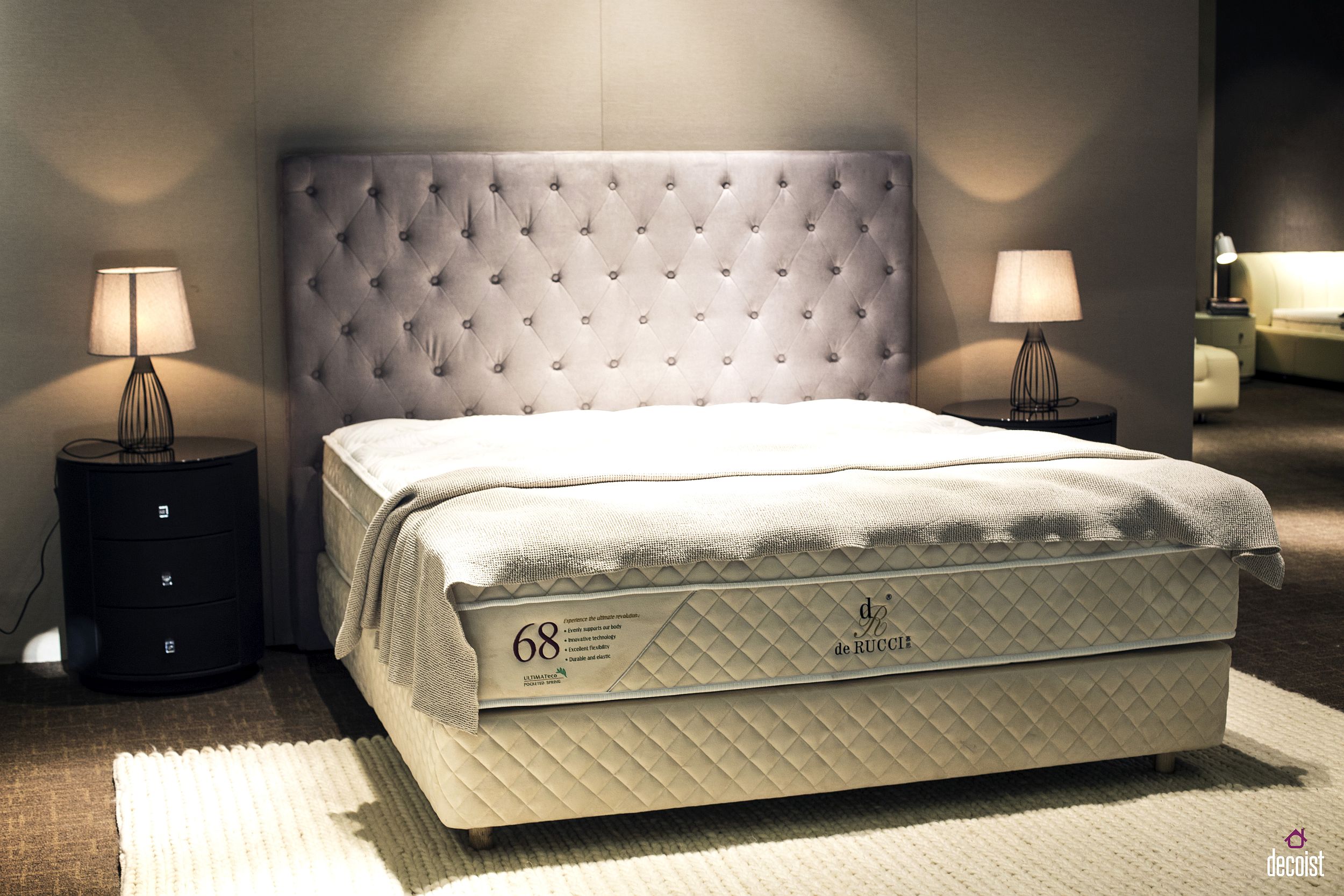 6 ideas to decorate the top of his headboard
If a headboard makes it possible to dress the furniture and make the room cozier, we often look for the right idea to decorate the wall above. Frames, mirrors, shelves: here are 6 deco ideas to give some pep above your headboard!
To decorate the top of your headboard while optimizing space, you can install wall shelves. Provided, of course, to fix them so they do not fall off in the middle of the night. Avoid using your collection of encyclopedias, but prefer beautiful pocketbooks, small decorative objects, pretty vases, plants. To avoid a too massive side, we prefer the shelves open closed closets, heavier. We choose clean models to dress the wall above the headboard without overloading it.
The deco tip and more: the good idea of this room is to opt for several types of shelves, a simple board, and a storage cube. We also love the decorative complements: a lamp and some hanging plants, clever and trendy!
Paste your memories above your headboard
As when you were a child, the room can remain your secret domain, your refuge. To make a room in which you feel good, decorate it to your image. And for that, what better than to display your memories? Here a frame with a beautiful poem, a quote that speaks to you, there a child's drawing to which you hold. Hang different objects, a feather, a little scribbled word on a post-it, a photo, a score of music. Create, above your headboard, your wall of memories, under which you can fall asleep in all serenity.
The deco tip and more: to hang with style all your memories, think of the decorative tape, type masking-tape.
Think of a mirror to dress above your headboard
This is one of the tips for enlarging a small room, it is also a decorative trick that works every time: the mirror. Well-chosen to go perfectly with your decoration, a large mirror installed above your headboard will create a cozy and trendy atmosphere in your room. The good idea is to choose a mirror large enough and install it horizontally. So, you create an impression of space, depth, and grandeur in your room, while reflecting the soft lighting to illuminate the room a little better.
The deco tip and more: you can choose a large mirror or install several different sizes, to create an unstructured and personalized bed headboards.
Multiply the little decoration above your headboard
To break the evenness of your wall and headboard, you can dress the top of your bed with a multitude of small decorative items. The trick is to choose a headboard with a rim on which you can dispose of objects, or to install, close to the bed, a thin shelf bar. There, choose pretty objects to decorate your room: a pretty demijohn with a flower inside, your favorite books, some candles, a beautiful lamp, beautiful trinkets. However, be careful not to overload the decoration and maintain a harmony of style and colors.
The deco tip and more: what a good idea to install a beautiful frame not above the bed, but on the side. Thus, we can always use the edge of the headboard to arrange the objects we like without hiding the frame.
Place cadres above his headboard
To dress the top of a headboard, the easiest deco idea, but also the most effective is the frame. Choose only a very large, a multitude of small frames, various sizes and orientations, the frames are perfect for decorating the top of a headboard. If you have a headboard with a rim-type shelf, you can, as here, put your frames on it, simply. This avoids the sometimes strict side of the frame hanging straight up over the bed. We opt for a setting that contrasts with the wall so that it comes out well and we favor the soothing and clear colors, to promote relaxation in the room.
The deco tip and more: if you choose to hang your frames on the wall, multiply the sizes and do not align, for a slightly restructured side trend.
Choose the right lighting above the headboard
The lamps are just as useful as they are decorative when they are installed in the right place in the room. By fixing them above your headboard, you gain space by uncluttering the bedside tables and you also create an intimate and cozy space, where it is good to rest, read a little, chat on the pillow. Here, the storage above frees the space of an object, we have a perfectly arranged bed frame, where lamps have a central place. The lighting is also a good asset to enlarge a small room.
The deco tip and more: if we choose a refined decoration by simply installing lamps and hiding all the objects that could drag, we can afford to opt for eccentric patterned wallpaper. We can quite put some just at the place of the headboard, to accompany the location of the sleeping in verticality.